LinkedIn can be responsible for 50% of all traffic from social media to your website. Why? Visitors via LinkedIn not only come from your company pages, but also directly from your personal page and from those of your brand ambassadors. A springboard to stand out even more with your target audience. People make a connection with people faster than with a logo. In addition, the LinkedIn algorithm gives priority to native personal page content in the feed.
"Engaged employees ensure 8 times more views and 4 times more followers on your company page and lead to 4 times more applications"
Your colleagues are your best ambassadors
Planting seeds with your target audience for your employer branding or social selling/recruiting? Then as a LinkedIn page manager you need brand ambassadors; people in the field with a relevant network. Your sales and recruiting are the faces of your company.
But intrinsically motivating your colleagues to spread the happy news is more than pushing emails from MarComm asking them to like/repost/share the post. Both LinkedIn's algorithm and the audience won't give you the engagement you're hoping for. And your employees can quickly suffer from 'social fatigue' if you keep pushing.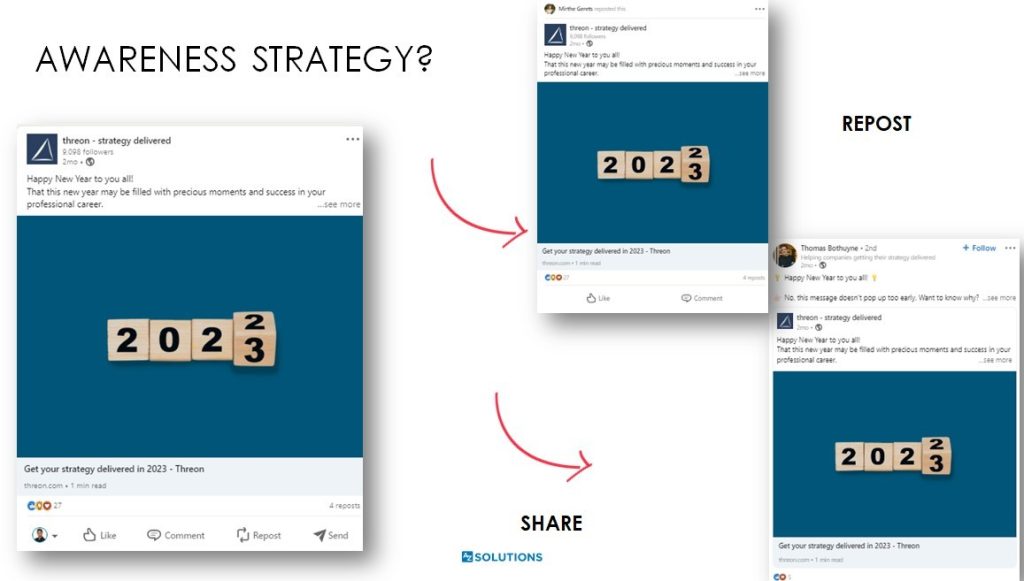 How do you convince employees to interact with your company on LinkedIn?
As long as your colleagues don't (partially) see the "why" and the "what's in it for me", that "brand ambassadorship strategy" won't work. It can even cause social fatigue among colleagues who do "listen well".
At many companies, each with its own culture, the same frictions often return and it is always an exciting challenge to motivate employees sustainably. The insights below will help you take a step forward.
7 insights to get your employees on board with your LinkedIn content strategy
1) Lower barriers by hands-on informing/inspiring your colleagues how to use LinkedIn personally. Work with well-developed guidelines not only with policies. Make sure that the ambassadors start from an optimized profile (various uniform custom banners, featured section media, about, link work experience well with company page, …)
2) Oil spill effect: pave the way with a group of pioneer brand ambassadors. Think outside of the box and don't just involve the usual suspects of MarComm. Start with believers from different departments in your company. Detect them and engage them.
3) Develop an ambassador channel for efficient internal communication in addition to your mailing. (Teams, Slack, LinkedIn chat group, landing page Intranet,…) Create a cloud in which you provide per department/topic media to use during posting and motivate colleagues to share their content with the ambassador group.
4) You have active ambassadors (content creators) and you have ad-hoc ambassadors who are more likely to share and engage. Appreciate and facilitate both. Teach them how.
5) Leading by example: C-level and managers taking the lead on LinkedIn. Facilitate them and link this back to your active ambassadors & ad-hoc ambassadors.
6) Motivate your ambassador team by providing feedback on LinkedIn growth results and work with editorial boards. Make them feel like they're part of a bigger picture when they can share important messages about the company.
7) Nurture and inspire your ambassadors with content. Give them access to a hot-topic calendar to inspire them with content. You can do some ghostwriting, specific for your your inside experts (campaign based). Experiment with the new LinkedIn company page feature "Recommend for employee" to facilitate this process.
LinkedIn feature: "Employee recommendations"
There are of course tools outside of LinkedIn (such as Social Seeder & Ambassify) to distribute content from your company on a larger scale through the employees.
But there is also a possible shortcut within LinkedIn itself that is worth trying: "Recommend posts to employees" via your company page. One of the extra avenues to trigger colleagues with prepared posts. They will receive a notification or can find these "Recommended posts" under the tab "My Company" on the company page.
1. How do you make "recommended posts for employees" as a company?
Go to your business Page
Click the Content tab
Choose 'Recommend for employees'
There you go, you can push a post as inspiration, only intended for colleagues linked to the company page.
2. Opportunities?
✅ This way you give employees the opportunity to place your most important company posts directly as a creator on their profile, and not to have them "reposted" indiscriminately
✅ By posting something yourself, the algorithm gives you more reach than "Sharen" or "Reposting" (up to x4).
✅ Colleagues don't have to look for the right photos, videos, links. Easy via this tool, because it takes everything with it.
3. Pitfalls?
⚡Watch out for content overload. Personal approach is what we want to see. So add your own headline and personal context.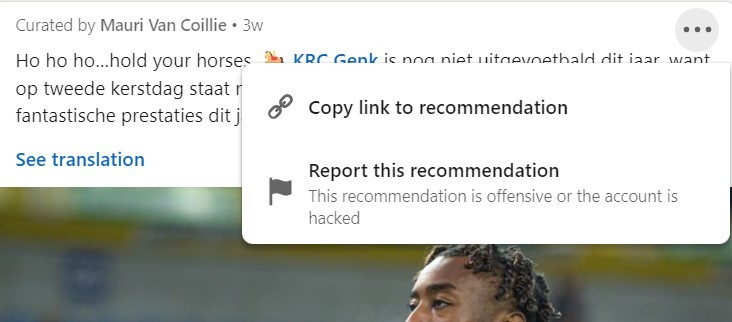 ⚡Colleague does not always get/see the notification and must therefore intrinsically move to the company page or the received link of the post.
⚡Communicate preventively via your internal communication channel the "link to recommendation" (the link copy pastes), so that they can recycle your prepared mail with one click.
Leading by example
At Idewe, we have been rolling out a LinkedIn brand ambassadorship strategy & contentstrategy (in collaboration with Idewe) since 2021. Growth makers). In the meantime, there are 40+ colleagues who have taken on an active & ad hoc ambassador role. Some successful correlations?
✅x4 followers
✅x3 number of website visitors via LinkedIn
✅x8 leads for training, audits & vacancies.
Be sure to take a look at other toppers such as Balance HR, Itzu & Threon.
Is this the golden egg?
On LinkedIn, your company page as a mothership is important, but not enough. Personal brands, human interaction and valuable content take precedence on LinkedIn. Your employees have a huge impact on how your brand and curstomer experience are experienced. This tool is certainly a nice egg, a key to, but first intrinsically motivating your colleagues to see the win-win of LinkedIn takes precedence. So stop dumping your content and facilitate the bottom-up content strategy as a Page admin. Motivate them to post themselves and thus generate even more reach and trust in their network. Community building starts internally…
I'm curious. Are you already using this feature on your company page? And what is missing from your experience in this list to motivate employees to distribute content?
———————————————————————————————————–
👉 COMING UP: My latest LinkedIn Employer branding E-book is coming in May 2023! Even more insights into how you can recruit the right people with your company with a strong employer branding strategy.
Be the first to receive a copy in your inbox by signing up with me via this link. Or send me an enthusiastic LinkedIn message without obligation and we will start the conversation. 😉
———————————————————————————————————–
---
Would you like to discuss your LinkedIn strategy & bottlenecks without obligation?
Book a moment in my calendar when it suits you:
https://calendly.com/erendizates/1-on-1-linkedin-power-talk
About Erendiz Ates
Trainer and co-manager of AZ-Solutions helps companies and professionals to grow their business network and brand through a well-thought-out LinkedIn strategy. Characterized by his qualitative and personal approach, he shows the power of LinkedIn & Social and how this can include this as a full-fledged tool in your branding & strategy.
In the meantime, he has given more than 300+ companies and 1500+ coachees from different sectors the necessary boost.
Erendiz Ates, LinkedIn trainer & ambassador BeNeLux
erendiz@az-solutions.be | www. az-solutions.be
Check out my free LinkedIn videos:
You can find my previous blog posts here.